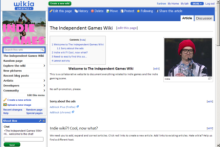 TIG Wiki was started on a whim. Wikis had come up many times before when discussing community sites in the indie community, but there never really was one. Wikia was chosen solely because it hosts the wookiepedia, which happens to be the best thing ever.
Advertising and Hosting
Edit
Wikia has some fairly intrusive advertising practices. They can be removed using most adblock software. For discussion on how to host this wiki cheaply and reliably (and not on Matthew Wegner 's servers) then go to the talk page for this article.
External Links
Edit
Community content is available under
CC-BY-SA
unless otherwise noted.