Noitu Love 2

Noitu Love 2

Developers

Released

2008

Genre

Action, Run'n'gun

Modes

Single Player

Platforms

Windows

Input

Keyboard, Mouse

Website

On april 2010, it was announced that Noitu Love 2 was getting a Wii port in collaboration with Golgoth Studio but nothing more was announced since then and there is no news from Golgoth Studio since June 4th 2011. The game is avalaible on Steam since April 2012.
The year is 2288. The city is protected by an organization called "The Peacekeepers League" and everything is swell except for that it's under attack! By a robot army lead by professor Darnacus Damnation!! Or is it... ?
100 years after the events of Noitu Love 1 the new star of the Peacekeepers is Xoda Rap, and what she has to endure is a sudden resurrection of the Darn armies, but adding to that the city is locally turning to places of the past! What could be causing this?
Using a mouse reticule as a quick-dash-to-enemies and mouse gestures for special moves, Xoda will take on anything that stands in her way in the name of peace! The game shares little in pacing and action to Noitu Love 1. It is more of a continuation on that universe, so expect much more mindless action!
Features:
7 wholly different levels
3 modes of playing the game
3 difficulty levels befitting most players
Several bosses per level
Ratings for every level, difficulty and mode
A bunch of secrets
and more!!
Xoda Rap is "paradox" backwards.
It was nominated for the 2008 IGF Grand Prize.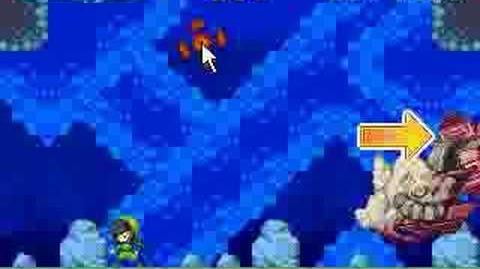 External links
Edit
The complete soundtrack is available for free download here http://www.konjak.org/section.php?section=music
Community content is available under
CC-BY-SA
unless otherwise noted.