The Independent Games Festival is a yearly competition for independent games started in 1999 where game developers can submit their games and get fabulous prizes. Currently the entry fee is $95.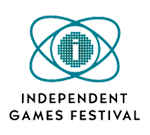 Deadline for IGF Main competition 2011 entry: 18 October.
New rules for IGF 2011: check it
The IGF has a couple of Competitions for entry:
(Captain Forever won it in 2009)
for mobile devices like iPhone, Android.
free to enter, but requires you to be a student at the time of development.
Controversy
Edit
The IGF has been criticized for a confusing and misleading judging process, for a relatively high entry fee, for the requirement that you be physically present in California at the GDC in order to qualify for the prizes, for favoring unreleased games which are not publicly available to play, and for favoring "mainstream-lite" or very polished indie games rather than truly innovative or creative indie games.
"I think the only real valid issue with every bitch and moan people have about the igf can be traced back to the fact that their judging system is extremely and obviously flawed." -Edmund McMillen
"what if youre the kinda person who throws out 100s to things you like, and 0s to things you dont. if you had 3 judges, 2 of them gave you 90s and the other gave you a 0 because they didn't like the genre of game then your pretty much fucked." -Edmund McMillen
There are many suggestions for improving the judging process: have judges rate more games than just a few, get rid of judges who leave bad feedback or wait until the last minute to play and judge all the games, but so far the only advice the IGF have taken is to require feedback from all judges (starting in IGF 2010), other than that the judging process has remained essentially the same from when there were only a few games being entered into it in 1999.
Update: The judging process for the next IGF (IGF 2011) seems to be taking into account many of the criticisms here: announcement
References
Edit
Award Categories and Previous Winners
Edit
youtube playlist of all IGF 2010 entry videos
note: the double winners in some years mean one won an award for that category in the Web/Downloadable and the other in the Open category.
Seamus McNally Grand Prize: named after late indie developer Seamus McNally:
Excellence in Visual Art:
Technical Excellence:
Excellence in Audio:
Audience Awards:
Student Category:
The Nuovo (previously Innovation) Award:
Community content is available under
CC-BY-SA
unless otherwise noted.