Glen Forrester

donning a Luigi hat

Location

Australia

Worked with

Website
Glen "Radix" Forrester is a Sydney, Australia based developer who has released dozens of small freeware games.
He is best known for Kaiser Kitty (2004, gravity-flipping puzzle platformer), Bastard World (2006, precision platformer), his untitled work-in-progress 3D Zelda 1 remake (WIP, first-person shooter), GNILLEY (2010, microphone-controlled yelling game), and Enough Plumbers (2010, clone cloning puzzle platformer). Many of his games are developed for jams such as Ludum Dare and Klik of the Month Klub.
In 2010, he teamed up with Arthur Lee to form a little collective called mak gam.
Biography
[
]
Radix lived in China for a while, where he taught English to Chinese alligators, but moved back to Australia recently. Wait, no, he's in China again.
Games
[
]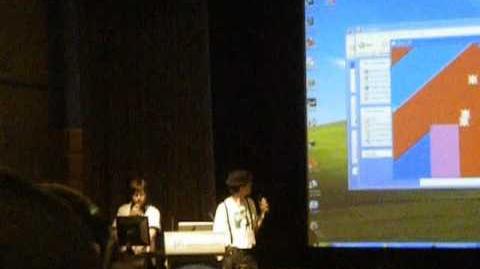 Released
[
]
Enough Marios

GNILLEY

Mario's Macross

The Worst Mistake

Annabel Chong's Killing McChambers

WIP Legend of Zelda Fangame

Standard Waiver

Kaiser Kitty

Bastard World

Santasm

Santasm 2

Santasm 3

elacsy

2elacsy

Defiant Black

Mathora VI

Kill God

Lonely Hermit Dorf v0.00000002x

2XUE

Starman

Mariocore

Cycloid

Speed Bear

Voidlights

Garfield Adventure
(A number of other releases are either lost to time or simply not listed on his website, if you find any, add them!)
In development
[
]
Trivia
[
]
External links
[
]